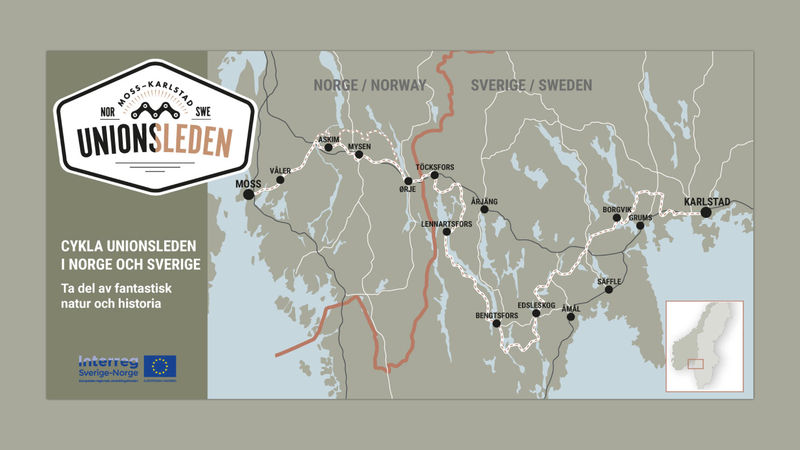 Unionsleden
Unionsleden is 350 km long and from west to east, runs from Moss in Norway to Karlstad. The Swedish section is also Sweden's fourth national cycle trail. When you cycle along Unionsleden you will be struck by the beautifully changing landscape. One minute you're pedalling through a village, the next minute alongside one of our many lakes. You will be cycling on winding gravel lanes through woods and open landscapes with grazing animals. The area is rich in wildlife with elks, deer, foxes and other fauna that can pop up along the way. You are never far from a place to have a refreshing dip or a beautiful vantage point to enjoy a picnic.
The name and the thinking behind the route came from the union between Norway and Sweden that was established in Moss in 1814 and dissolved in Karlstad in 1905.
There are many sights along Unionsleden with links to its history. Plus art galleries, a whisky distillery, farm shops and beautiful locks along the way. If you fancy a break from the saddle, you can go on a boat trip, try paddleboarding, hike or why not do some fishing?
A good night's sleep is important so you wake up fresh and alert and ready for another action packed day. Along Unionsleden, you have a choice of hotels, manor houses, cottages, camping or B&B accommodation.
Infrastructure
The trail is made up of a mix of sparsely trafficked narrow roads, gravel paths and cycle trails. The map tool provides plenty of useful information about both the road surface and gradients. Bear in mind what services are available and the distance between shops and food and drink outlets for example, as these can vary. Sometimes, taking your own picnic can be a good idea, many accommodation hosts offer packed lunches you can take with you. Certain pandemic restrictions can also apply, so we recommend you double check opening times for your planned stops along the way.
Seven stages
The trail is divided into seven daily stages
Moss – Askim, 45,5 km
Askim – Töcksfors, 57 km
Töcksfors – Lennartsfors, 41 km
Lennartsfors – Bengtsfors, 46 km
Bengtsfors – Edsleskog, 42,8 km
Edsleskog – Borgvik, 60 km
Borgvik – Karlstad, 60 km
Planning is half the enjoyment.
Half the pleasure of a trip is planning it. What do you think would be most interesting, what challenges appeal to you, what would you like to see and experience on your cycle trip? Check out the website and find your own favourites. Don't forget to allow time for spontaneous stops. A swim or an ice cream along the way can never be a waste of time.
Important. Unfortunately, this year special circumstances apply. The pandemic means that, at time of writing, the Norway-Sweden border is closed to cyclists. Circumstances can change, keep an eye out for public authority information.