Stages
Unionsleden stage 1, Moss - Askim
45.5 km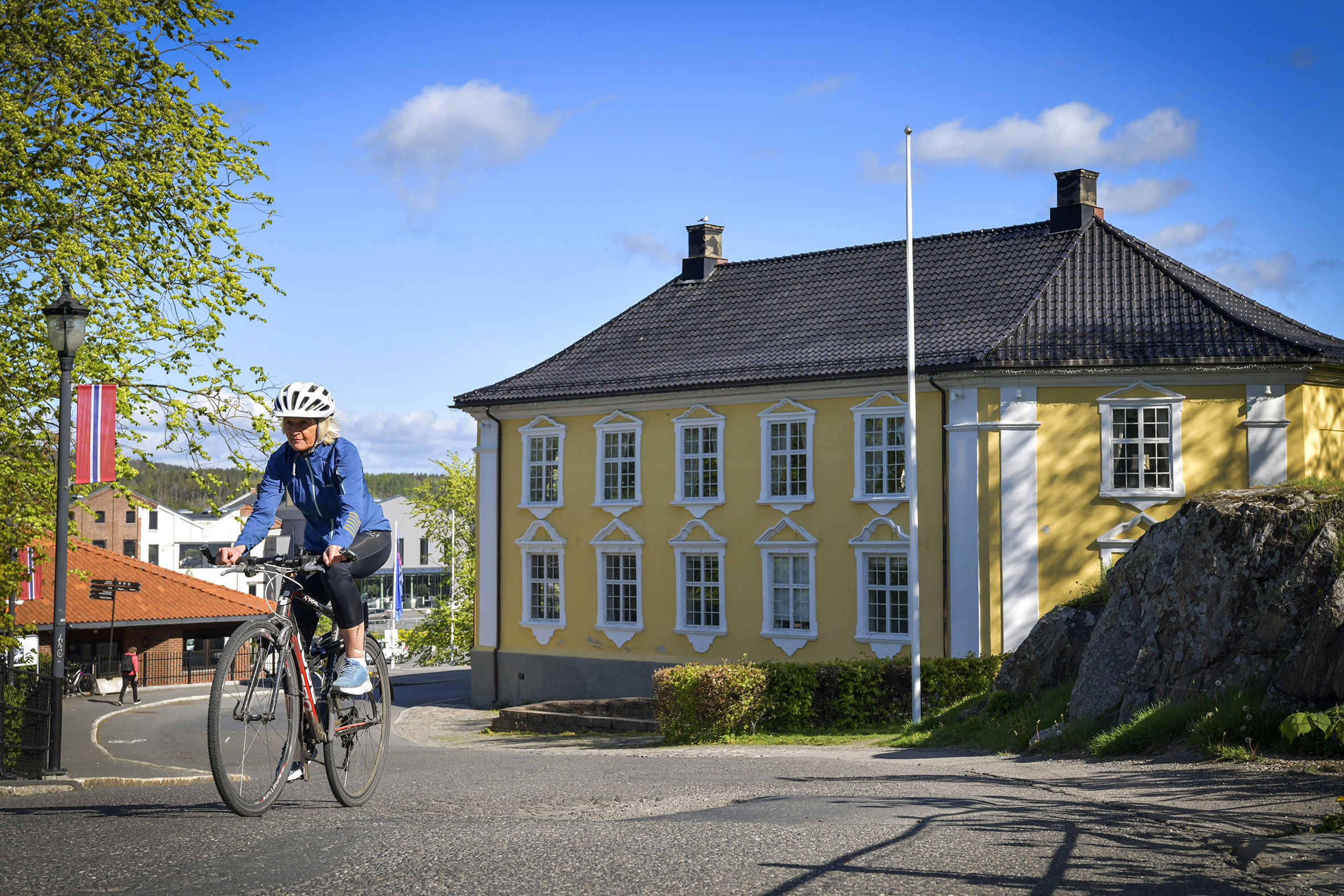 Moss-Askim, via Fossum (UL main route): 45 km
Moss-Askim, via Solbergfoss (UL north): 53 km
Moss - The Town by Oslo Fjord
Unionsleden begins at Konvensjonsgården, which is located at Møllefossen in Moss town centre. This was the location that the peace treaty between Norway and Sweden was signed in 1814, leading to a union that lasted into 1905. Moss is a town of approximately 50,000 inhabitants with good accommodation, restaurants, museums, galleries, sports shops and other shopping opportunities. At Jeløya, there are good opportunities for recreation and adventure. Come to town one day early and familiarise yourself with Moss before your cycle tour begins. Moss town centre is a good starting point for sightseeing in the Union.
The cycling route from Verket (Konvensjonsgården) and follows Osloveien up to the roundabout at Krapfossveien. Then you cycle through a residential area and around Grindvoll nursery before crossing under the E6, along the northern end of Patterødtjernet and to Mosseporten Senter with its plenty of opportunities for shopping, cafés etc. Then you set of on an asphalted bicycle route along Vålerveien to Vansjø. There you cross the Rødsund bridge on FV120 and then continue along FV115 up to Kirkebydgen. There may be some motor traffic on this stretch.
Experience Vansjø and "Ville Vakre Våler"
In Kirkebygden, you will find the historic Våler church, a beautiful stone church from 1175. This is also where the Østfold delegated to the 1814 constitutional assembly at Eidsvoll were elected. In the Municipality of Våler, you will find such attractions as the Middagsåsen ski centre, the rural museum, the Kjærnes farms, climbing parks and plenty of opportunities for fishing and recreation.
From Kirkebygen, the route goes north over FV243 Vålerveien and Mørkveien to Spydeberg. Here you will find farm shops and cafés along the route, which also passes by the Mørk Golf Course. Spydeberg church is located at FV122. On the other side of the road is Spydeberg Prestegård, which is famous for being the location where the peace treaty of August 1814 was actually negotiated and settled, so that a few days later a formal confirmation of the treaty at the Mosse Convention could be obtained. Prestegården hosts a reconstruction of Jakob N. Wilses romantic formal garden from the 18th century. Prestegården welcomes groups and is normally open to on Sundays.
Spydeberg - Askim
Spydeberg and Knapstad are 2 villages with a total of almost 10,000 inhabitants, where you will find a variety of services, shops and café, restaurants and old three-storey houses with special features. Unionsleden divides in Spydeberg town centre. A northern route goes over the Solbergfoss dam and the main road along FV128. They meet at Askim Torg.
The main route continues along an excellent bicycle trail across Glomma at Fossum, where war memorials are location. This is the location where clashes between German occupation forces and Norwegian soldiers took place in April 1945 resulting in many casualties on both sides. Further on, the road leads to Askim, which is the centre of the Municipality Indre Østfold with 45,000 inhabitants. Before getting into the centre, you can take a detour to the Kykkelsrud power station, Romsåsen or to Langnes Skanske on the east side of Glomma, where the last battle between Sweden and Norway took place in 1814. Around Askim Torg, one can find a number of shops and restaurants, as well as the Østfoldbadet water park.
Unionsleden Nord starts up along Stasjonsgata in Spydeberg until you cross the railway at the station. Spydeberg station is 45 mins aware from Oslo S, and it is also a good place to start on the Unionleden if you want to cycle a Glomma tour or travel along other stretches. From the station, you can follow a little-travelled car road in a hilly terrain to Solbergfoss power station. The trail runs on a road over the dam itself. The power station was built at the beginning of the 20th century and is an architectural monument. The surrounding area is good for fishing, recreation and a private bathing area with restrooms.
The area also goes by the name of Askim Havn ("Askim Harbour") since there is a small jetty and a means of launching small boats to transport people on the Øyeren. It is possible to book trips on the Øyreren with the MS Øyern which will take you up to such places as Trøgstad or Fetsund. From Solbergfoss, the cycle trail continues on Solbergfosslinna biking trail, which is a disused railway line. A pleasant cycle tour on gravel through the forest to Askim Torg.
Discover more in the area